I've been nicely invited to join the Boe Recording family with a track - Dance Et Cetera - together with Arnaldo and Ben Boe.




Video (stupid) of the making, if you like to see a guy turning knobs.


Second record with the cool chaps from Local Talk, Like for the LT022 (Local Talking Ep) you'll find 2 acid tunes and one more personal, a smooth and deep track, for digital bonus.


Clicking the pic leads to Juno
I launched a new project in the name of John Red Hawk. I've been nicely invited to make some beats for Snuff Trax and Dame-Music. The Snuff Trax comes with tunes by Affie Yusuf, Ricardo Miranda, Arttu and myself, and the Dame-Music release comes with a banging remix by The Jaydes aka Bloody Mary and Attan.


Clicking the pictures leads to Juno
I am proud to introduce the new music label Point Of No Return.
The very first reference is Rise Above, a magnificent 4 tracks Chicago influenced record by the duo of Perseus Traxx and Mantra : Nite Vision.
the pic leads to Juno records.
I made several podcasts since the last time i wrote here.
Modern Twist In My Sobriety : An Infinite State Machine Podcast :


Six Axle podcast :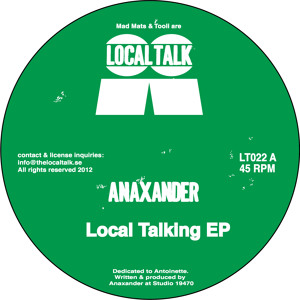 (clic the pic to buy)

After 21 releases and covering most of areas of house it's time to introduce Anaxander and present a new sound to the ever growing house of Local Talk

Antionette is a perfect slice of electronic influenced body locking flavored track, an organ alongside a bouncing bass and a rhythmic feel is sometime all you need to get movin'

It's the B-side that really take things to the next level. Anaxander both puts his own clever stamp on these two tracks and delivers acid in the old, vintage sense that owes more to the raw and unpolished club track played by Ron Hardy at Music Box than to the old school house vibes you've expected from Local Talk.
Glad to welcome Whim-ee, Martin de Brig and Jared Wilson onboard with me. The record reach the 4th place at decks house bestseller charts the first week, and it continues. Thanks for the support !
Slabs 171 - DJ TLR - Live at The Hawktree Golf Club, Bismarck North Dakota
Time for another monster mix, this time from Crème's DJ TLR, accompanied with his customary 'reasoning' behind it's existence.
A live DJ set celebrating the inauguration of James Olsom II as club treasurer, performed at the Hawktree Golfclub, Bismarck North Dakota in the summer of 2012.
Over 2,5 hours of INTENSE pure RAW ROCKIN HOUSE in all its forms, with no attempts to smooth out the moments of pure UNHINGED MADNESS that drove the bar insane and gave more than a few old hoochies feelings they never thought they would have again. Hey Gopher, just gimme me a paira dancing shoes, a paira ladies and a paira medics!
Caddies agree: listening to House without BASS is like trying to putt with a tire iron.